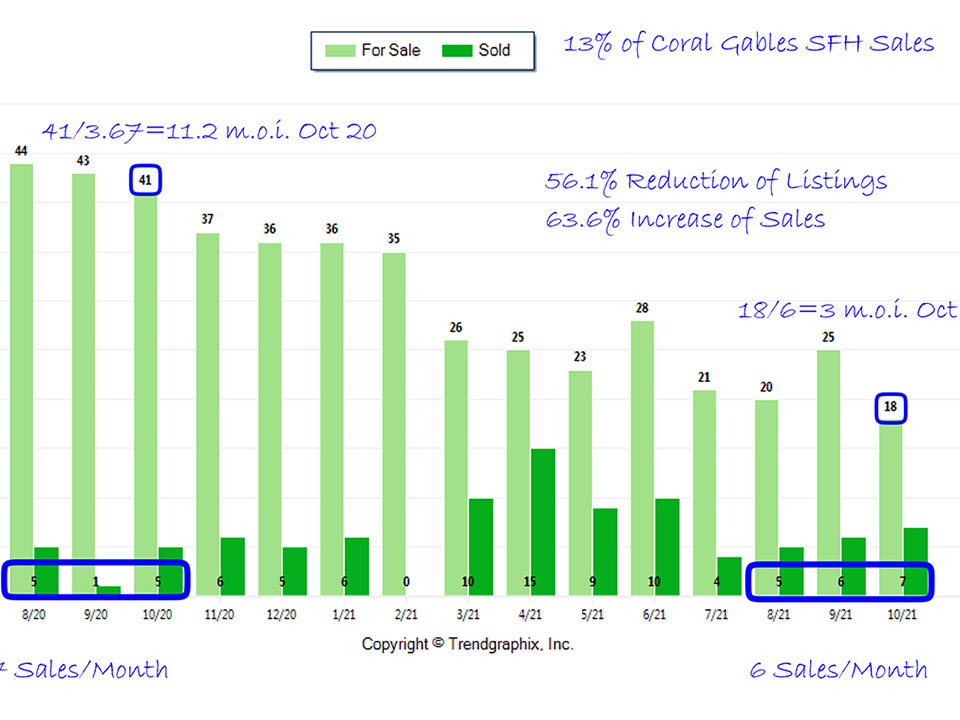 As a realtor who is actively participating in it, I can tell you what the South Florida real estate market feels like. It feels busy, prices remain high, while inventory is low, so every listing that goes on the market seems to be snatched up quickly, and for more than the asking price. That is all very anecdotal, though, so I always love to pull up our Facts and Trends report to see what is really happening!
Take a look at the chart above and you will see that my feelings about the market are actually proving to be true. Click here to view the entire report. This graph gives a snapshot of Coral Gables single family homes between $3,000,000 - $4,999,999 over the past 14 months, ending this past October. Inventory in this price range is down dramatically, from 41 homes in October of 2020, to a mere 18 last month. Although there are not as many properties to see, monthly sales are actually up: between August and October of last year, there was an average of 3.67 sales per month, while the same time period in 2021 saw 6 sales per month. That is a serious uptick!
In addition to waning inventory and increased sales volume, you will also see in the statistics above that homes are selling for much closer to their list prices than they did in 2020. In fact, in the $3,000,000 - $4,999,999 range this past October, properties sold for an average of 97% of their asking prices. When supply is low and demand is high, you can see that buyers will do what it takes to get the deal done!
If you have been debating whether or not to sell your Miami home, I would highly recommend doing so in the near future. Give me a call, I would love to do a market analysis for you – and I would bet that the numbers will surprise you!