Hello and Welcome to Miami!
I have designed this website with you in mind, filling it with helpful information. Visit often to search for properties with my user-friendly real estate search solution, get details on schools all over Dade County, spend time reading my blog, or explore to find so much more!
550 South Dixie Highway
Coral Gables, FL 33146
Cell: 305-798-8685
Office: 305-960-5330
Archive for the 'Miami Real Estate Fun Facts' Category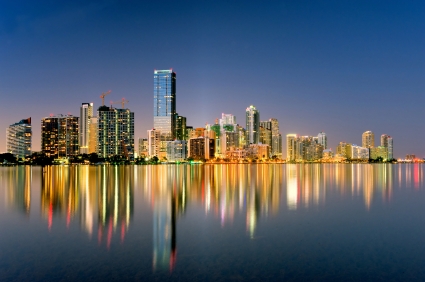 10. Our lush, tropical landscape makes it feel like we live in paradise.
9. It's only a 3 hour drive to Key West and some of the most beautiful diving in the world!
8. You can wear your favorite Lilly sandals in January (we'll miss you Lilly!).
7. We're learning to be good winners (and losers) – Go Heat! Go Dolphins!
6. You can enjoy high school lacrosse games and a light bay breeze at the same time.
5. Out of towners always want to visit because we always have beach weather!
4. Just a quick drive to Joe's Stone Crabs for lunch.
3. Why drive when you can take the boat?
2. We live in one of the most diverse communities where English is often not even the first language!
1. Some of the most unique, interesting, noteworthy architecture is found here!

A few months ago I showed a house in High Pines to one of my clients that smelled so badly, it's all I could remember about it. Someone had just cooked a very strong, fragrant meal and it left me with such a bad impression. A different client wanted to see it this week so we made an appointment. When I realize which house it was I considered canceling it, remembering how bad it was. However, this time around it was adorable! The smell was gone, my client loved it and she's considering making an offer. It's amazing what an impression smells can leave! So, if you do a lot of heavy cooking or you have pets, be extremely aware when selling of the smells. The sense of smell is one of the most heightened of the senses so spray deodorizer, light candles or bake cookies. Make sure bad smells don't drive buyers away!
Interested in real estate in Miami? My areas of specialty are Coral Gables, Coconut Grove, Pinecrest, Ponce-Davis, South Miami and waterfront properties. Feel free to call or email me today. Let me and my team help you in your search!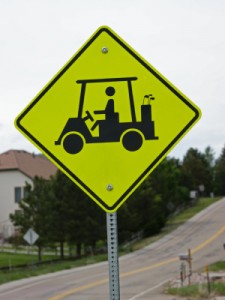 Are golf carts really allowed in Palmetto Bay?  This was a questioned asked of me this week while showing a client homes in the Palmetto Bay area.  We were leaving a showing as a golf cart came driving by on the road in front of the house and my buyer asked the question.  The answer is yes they are allowed, with a few stipulations.  The golf cart may only be  driven from dawn to dusk, the drive must be a licensed driver over 18 years old and the golf card must be road ready.  For more detailed information please check out the City of Palmetto Bay website.  And if you think owning real estate in a community where you can ride your golf cart to the park sounds like fun, give me a call and we will show you Palmetto Bay!
Puzzled by the lingo that everyone is using these days to describe distressed real estate? Here's a quick breakdown of the most commonly used words:
FORECLOSURE – this is a property that the bank has taken over from the owners. It's now owned by the bank that previously had the mortgage on a particular house.
SHORT SALE – this means homeowners owe more on their mortgage than what the house is worth. They are trying to sell them for less than what they owe the bank.
PRE-FORECLOSURE – this is when a homeowner is behind on their mortgage payment and is at risk of foreclosure. These are generally tomorrow's short sales.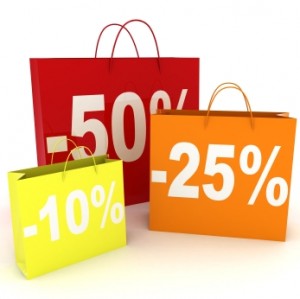 One of the most common questions I get is how to price a property in this market.  Over the past year we've found that the closer the house is priced to where it will sell, the faster it sells and the higher the price. While this sounds obvious, many people believe that pricing higher will give them room to negotiate and hold a higher price. Sales in the Gables over the past 6 months from $800,000-$1,000,000 revealed a total of 18 sales (not including foreclosures & short sales). 7 sold in less than 60 days averaging 4.71% off the asking price, 3 sold between 60-120 days and they averaged 12.33% off original asking price, and 8 took over 120 days to sell averaging 23% off original list price. It becomes clear that pricing is critical to the length of time a property takes to sell.
While often hard to know what the correct sales price will be, it is critical to be objective in pricing, look at the comps and listen to other people's perspective of the house. Often the owner or agent is emotionally attached to a home and is not as open minded as they should be. As the inventory depletes and the buyers become more active, it is clear early on as to how the market is receiving a home. Don't mistake the fact that the market is very active at this time and buyers are willing to pay what they deem a fair price, but not what they believe is overpriced.
If you own an Old Spanish home you understand the pride we "historically inclined" homeowners feel. The Old Spanish homes tend to be one of the most beautiful styles of architecture in this magical city and take us back to an era gone by. That is right, I said we, as I have lived in an Old Spanish home for the past 10 years. It was actually my father's best friend's house when they were growing up and is where my parents were married-a little trivia that I love!
These Old Spanish homes have had a resurgence of interest as of late and so I thought I would give some attention to them and their beauty.  When George Merrick planned and developed the City of Coral Gables, he embraced this "Mediterranean revival" style of architecture. The first lots were sold in Coral Gables in 1921, so examples of this architecture were already being developed in Miami with Vizcaya as the greatest example.
George Merrick offered free coral rock for building materials, thus many homes contained coral rock exterior walls and details. They also embraced such features as arches, high ceilings, ornate fireplaces, courtyards and open porches. Many of these porches have cracked tile flooring. While I cannot confirm this, I have heard that there are so many cracked tile porches, because when the Biltmore was being built a shipment of tiles from Italy came in all broken. They had to do something with them and made use of them in homes throughout the city.
The Old Spanish style homes tend to sell at a slightly higher price than your typical ranch, because people truly appreciate the quality and style they offer.  We currently have two Old Spanish homes that exemplify the style beautifully.  1137 Alhambra Circle has a wonderful arched front door with coral rock detail  around it and the coral rock is also around it's glorious fireplace.  1245 Andalusia is another special home we currently have on the market and it also has inlays of coral rock throughout the exterior and wonderful arched ceilings in the living and dining rooms.
A new listing we are about to put in the MLS is in Coconut Grove and was built by Walter deGarmo, a most important architect of the time.  This home at 3901 Braganza Avenue features the high ceilings, the grand fireplace, outdoor breezeways and a wonderful courtyard entry exemplary of the time.
Enjoy the history of our city and have a love affair with an Old Spanish-I highly recommend it!
Boo Zamek, founder and owner of JustAskBoo, sent me the nicest email last week that she received from one of my past clients.  I was so honored to receive it, and thought it was something worth sharing! 
I cannot begin to adequately express my deep appreciation and gratitude for Ashley Cusack in helping us through our house selling process. Your very high level of expertise, knowledge and professionalism were why we wanted to work with you, but we were also continually grateful for your warmth and heartfelt friendliness when we needed it. I am firmly convinced that I got the best representation from initial listing to final closing because of you and your incredible TEAM. Thank you  so very, very much for all the guidance and many little extras that you provided. Thanks also to JustAskBoo for providing the community with such a high quality Realtor!! 
– Rita Borbon and Kevin Thornburg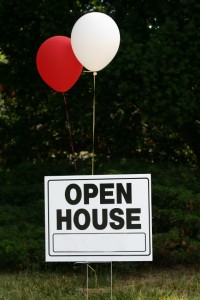 I often get asked by my clients, how do realtors really work together?  While it may seem to be a very competitive business, in reality we are a small community and are fairly tight knit.  We are always looking for ways to help each other out and Progressive Broker Opens is a great way to do it. 
So, what is a Progressive Open?  Realtors with listings all in one area will hold their houses open at the same time.  This increases the traffic of other brokers who are previewing houses for clients.
Today, there is a North Gables Brokers Open.  Between noon and 2 p.m., there are many homes that will be open – including two of my listings – 1502 Tangier Street and 800 Anastasia Avenue.  Public is welcome – so come on by!
As a realtor, my most asked question is "What is my home worth?"  And when people ask me that question, I sit down and do comps, I analyze their particular market, I look at graphs of data and pending sales, and I come up with what I believe to be the value of their home.  But these days, the results are almost comical! Because we work so hard to come up with numbers and analyze all this data that we have access to, but at the end of the day, I continually find that our prices stand where they were back in 2003 and 2004. And we have been consistently around those values for the past year. The graph below shows the average price per square foot of all sold homes in Miami-Dade County since 2003, and you will see we are right there, back where we were in 2003!
So while I'd like to portray myself as a genius, the reality of it is that the market pretty much is what it is.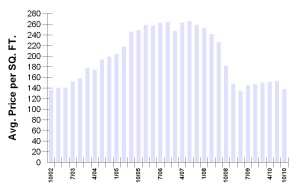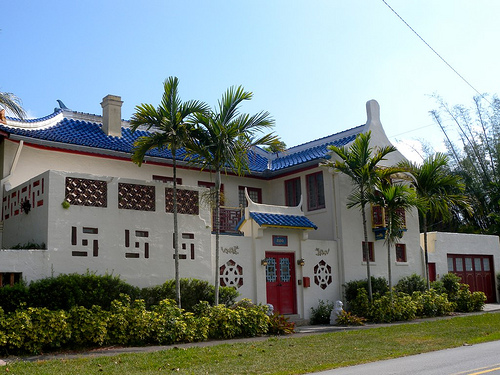 The Chinese Village is a fascinating collection of eight residences in Coral Gables, just south of US1 off of Riviera Drive.  It is impossible to miss with its vibrant colors, unique rooflines and different architectural style.  Built in 1925, these homes have a yellow surrounding wall giving the appearance of a compound, and roofs are red, yellow and blue.  All have intricately decorated gates and walls, and some of the roofs are adorned with Chinese figures which are symbols of good luck for the village's residents.  If you are a Coral Gables resident, you know that these colors would never be permitted on your homes!  But as this village was created in the Chinese style and much like Merrick's other villages, they diverge from the typical Coral Gables permitted style, creating something beautiful and unique to our special city.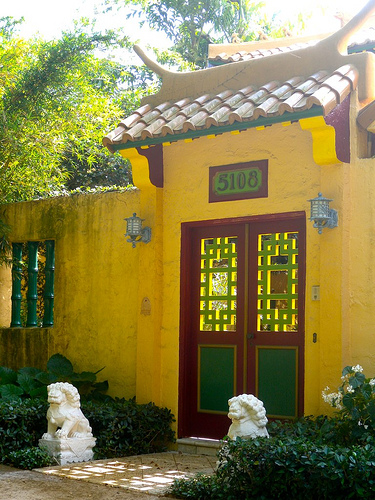 My mom and stepfather seriously considered buying one of these when I was in high school, which at the time seemed mortifying to a teenager to live in a multi-colored house.  However, they were so wonderful! The house they looked at was made up of outdoor walkways overlooking a center courtyard in the middle of the home, again following the Chinese style and offering something very unique to Miami's typical floorplans.
It is very rare to find any of these homes available for sale – there are not currently any on the market. And some residents have lived there for as many as 40 years! They are a true Coral Gables icon and if you are ever invited over for a cup of coffee or Chinese tea, don't turn down the opportunity!
Photos courtesy of Janie Coffey of The Coral Gables Story.
Fun in the sun at Woman Key, just off Key West
I spent some time in July for my family's annual summer stay in Key West and thought it would be fun to reintroduce Key West to the world because it's such a wonderful getaway place from Miami or anywhere, and is often overlooked. When people think of Key West, it is often the late night bars & trashy t-shirts that come to mind, but our Key West is entirely different. We take our boat down and spend much of our time on the water. Second only to the Bahamas, the water around Key West is brilliant and full of life. Life on the water is unmatched – my kids have learned to catch lobsters and spearfish here, and spend the rest of their days tubing, parasailing or just exploring on the flats. My husband and his friends are constantly finding new great coralheads to dive and spear hogfish & grouper.
Unlike the Bahamas, you  can escape to Key West and your cell phone and computer still work (although there is good and bad to that).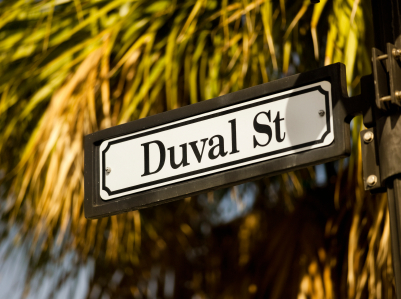 My favorite spots:
The Truman Annex – The best place for short & long term rentals. This is where the Little White House is located. It's a gated community that has large homes, small condos and everything in between. Perfect for a one month stay, or even just for a weekend. In this beautiful gated community, you feel like you've entered a whole new world, but you're just a block off Duval Street and only a couple blocks from our favorite marina. You can contact Compass Realty at rentals@compassrealty.com and ask for Everett Smith.
The A & B Marina – this is a great place to keep your boat. They also do short term slip rentals. Super convenient and the people there couldn't be nicer. From The A&B Marina, you're just  a few steps from the best place in Key West to get a Key Lime Martini (definitely not to be missed), The White Tarpon and the best Key West pinks (shrimp) at The Conch Republic.
The White Tarpon – this wonderful bar literally makes the best Key Lime Martinis in the world (the glass's rim is even lined with graham cracker crust – yum!), and it doubles as a great place to purchase fine wines, and will be opening a package food store shortly.
Sunset Key – this is a great place to enjoy an anniversary, or even take the kids for a long weekend. It's just a 4 minute ferry-ride from Key West and it's an incredibly lush island with beautiful villas and fabulous amenities. This is one trip our family never misses – a night at Latitudes for a wonderful meal and to shoot our annual Christmas picture on the beach!
There are so many fabulous restaurants, it's hard to just name a few, but here goes: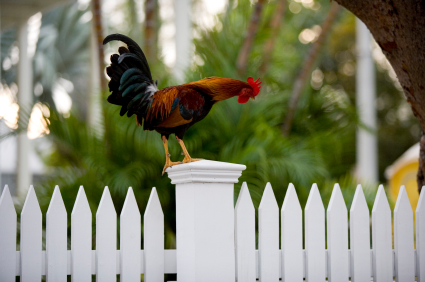 La Trattoria on Duval Street – this is a great local restaurant. Fabulous Italian food and wonderful service. The pasta dishes are all phenomenal.
Louie's Backyard – hate to be cliché, but you just can't beat Louie's for an afternoon drink and a fabulous dinner of shrimp & grits. It's so hard to find restaurants that make amazing food, but also have great views of the water – Louie's has both!
Blue Heaven – you can't beat this outdoor breakfast spot where you dine amongst the roosters. The menu is superb. The pancake selection alone is amazing. And the atmosphere is unmatched. It's also a great place for kids because while you wait for a table, they can stay busy playing ping pong in the back. They also have a nice lunch & dinner menu.
Santiago's Bodega – this is a place you'll never find without asking a local. It is a tapas restaurant with a great atmosphere, and an amazing menu. Don't miss the ceviche! Then again, I haven't had a bad meal here!
Virgilio's – for great music (from rock to jazz) and late night dancing. It backs up to La Trattoria. You can either get to it from La Trattoria, or there is also a side street you can take to enter. It has a great Key West feel to it – this isn't Sloppy Joe's…
While strolling down Duval at the corner of Sloppy Joe's, turn down Greene Street to go to Captain Tony's to try to toss a quarter over your head and into the grouper's mouth.
Our favorite raft up spot – Woman Key. Here you will find absolutely gorgeous water and endless flats!
 Key West has so much to offer. If you haven't been in a while, try it again, especially with a boat!