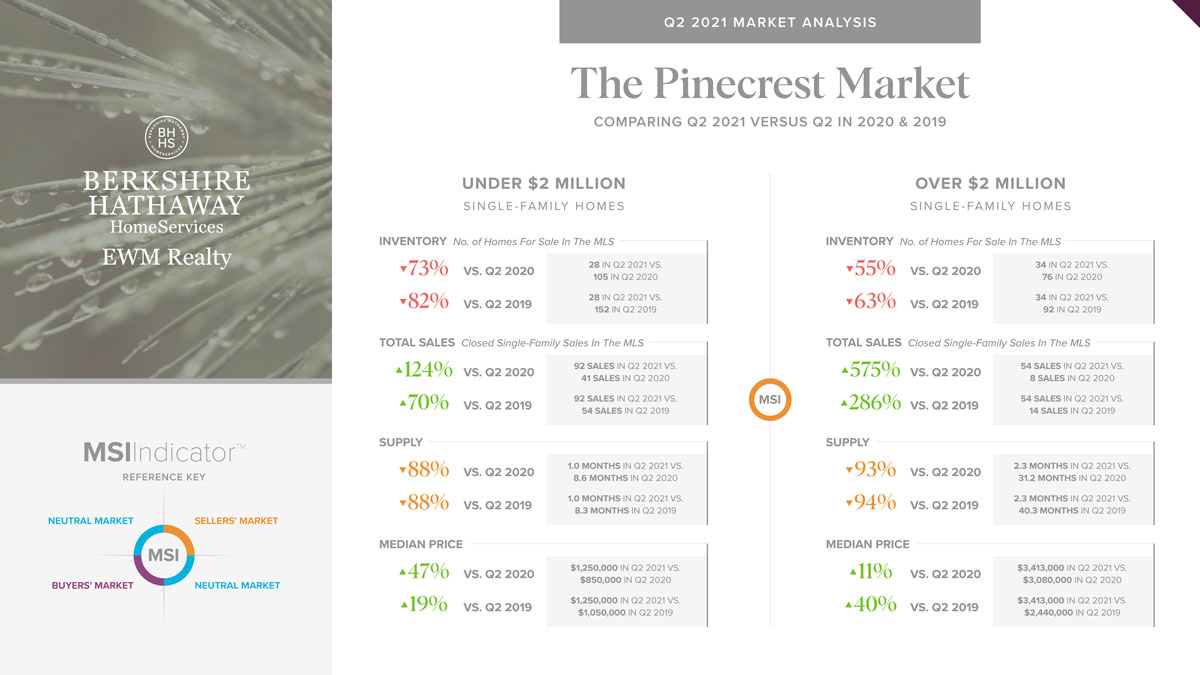 To say that the Pinecrest real estate market is hot might just be the understatement of the century! It is positively on fire right now. BHHS EWM Realty International's CEO, Owner, President, and South Florida real estate guru, Ron Shuffield just released his Quarter 2 2021 analysis and the data is truly shocking. The number of total home sales in this Q2 in the Pinecrest under-$2,000,000 market was up 124% versus Q2 of 2020. That's a huge jump, but the real eye opener is the over-$2,000,000 market, where there was a 575% increase in sales in 2021 versus the same quarter in 2020. 54 homes sold for $2,000,000+ in the second quarter of 2021 whereas just 8 sold during the same 3-month period last year. Wow!
With sales numbers up so high, inventory is dramatically low: under-$2,000,000 is 73% lower than 2020 with only 1 month of supply available. Over-$2,000,000 has seen 55% fewer homes for sale with 93% less supply. Supply and demand is certainly at play, and prices have increased 47% and 11% for under-$2,000,000 and over-$2,000,000 homes, respectively!
All of these factors point toward a strong seller's market, so if you are ready to list your home in Pinecrest, Coral Gables, Coconut Grove, Palmetto Bay, or any other South Florida location let me know. It is absolutely the right time to sell!