If you ask any realtor worth their salt whether a non-lit tennis court in the Village of Pinecrest can be lit for evening play, I would bet you that the answer you receive is a resounding "no!" They will tell you that any lit tennis courts within the Village are grandfathered in. I did a little bit of digging and found that you actually can illuminate new or existing tennis courts; however, there are very strict codes in place for doing so, therefore most people do not even try. Instead, if they need a lighted tennis court, then most would just look for a property with that amazing amenity already in place.
If you are a tennis player who is itching to pick up your racquet once the sun has set, then I have the property for you! 12100 SW 60 Court (aka Tropical Way) sits on one of the quietest and prettiest streets in the heart of Pinecrest. With a lot that measures over 61,400 square feet, it includes a perfectly-situated, recently-resurfaced tennis court that is oriented north/south, features lighting, and is fabulous for a match any time of the day or night! Such tennis courts are hard to find in Pinecrest or anywhere in Miami, and this one, surrounded by tall hedges, is the most pristine one that I have ever seen outside of a tennis club or a tournament! If tennis is not your game of choice, then why not make it into a pickleball or basketball court, or simply a party space now that outdoor entertaining is so important?!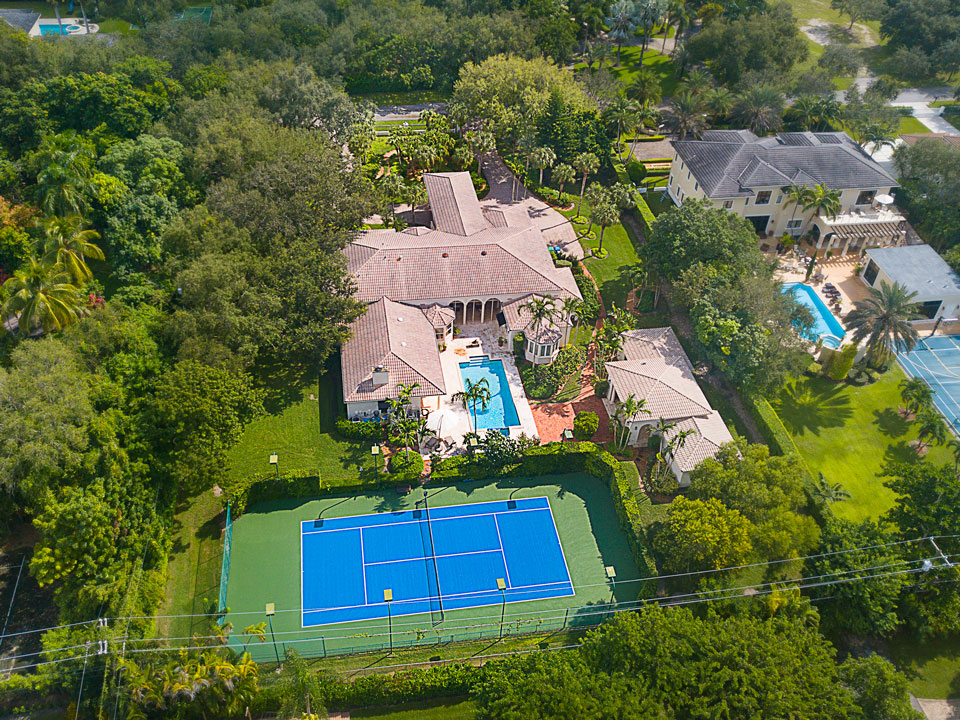 Not only does 12100 SW 60 Court have its superlative tennis court, it is also a wonderful place to call home. The 8,655 square foot 1-story residence was custom built with no detail overlooked. The grand formal living and dining rooms feature high ceilings and banks of French doors with transom windows above, opening out to a deep covered patio that feels like and serves as an outdoor living room protected from the elements. The with island and breakfast area overlooks the pool and adjoins the large family room with built-ins, wet bar, fireplace, and billiards area! The primary suite is a sanctuary with sitting room, newly updated bathroom including oversized shower and freestanding tub, there are two walk-in closets, and even a dressing room! The main house also includes 4 more bedrooms plus a dedicated office, 3 car garage, and generator. The property does not end there, though, as there is also an amazing pool plus a 2-bedroom pool house that includes a stunning outdoor kitchen, ample storage, and nice bathroom.
Whether you are looking for tennis, a stunning yard, a quiet street, gracious indoor and outdoor entertaining spaces, work-from-home opportunities, a tranquil bedroom, or anything else, this is the house for you! If you would like to know more about illuminating tennis courts in Pinecrest, then here is a link the Village Code pertaining to that subject.