Hello and Welcome to Miami!
I have designed this website with you in mind, filling it with helpful information. Visit often to search for properties with my user-friendly real estate search solution, get details on schools all over Dade County, spend time reading my blog, or explore to find so much more!
550 South Dixie Highway
Coral Gables, FL 33146
Cell: 305-798-8685
Office: 305-960-5330
George Merrick's Villages have always been some of my most favorite properties to sell in Coral Gables. Wrought with charm and reminding us of a day gone by, they are such a unique part of our city's history. Properties don't come on the market in these Villages often, so it's exciting to have two houses currently for sale in the French Country Village. Both built in 1926, 524 Hardee and 536 Hardee are listed with Judy Zeder and Carole Smith respectively, both with EWM Realty. One received multiple offers within days of being listed, and the other has had a flurry of activity. It's great to see such positive responses on these "vintage" homes! Hopefully the new owners continue to cherish them so they can be enjoyed for years to come. Looking for a piece of Coral Gables history? It's my specialty!
I've written about George Merrick's French Country Village before and the homes I have sold there recently – you can read those posts here and here!

My focused dedication as a realtor in my home town of Miami for over 20 years, consistently puts me at the top of my field. Whether you're looking to buy or sell your home, let me help you from start to finish with my results-proven: professional marketing, excellent property exposure and comprehensive experience.
As the #3 Realtor company-wide at EWM in 2012 with over $55 Million in sales, my focus is on Coral Gables, Coconut Grove, Pinecrest and South Miami — specializing in luxury real estate and waterfront properties. Call me today and let's get started!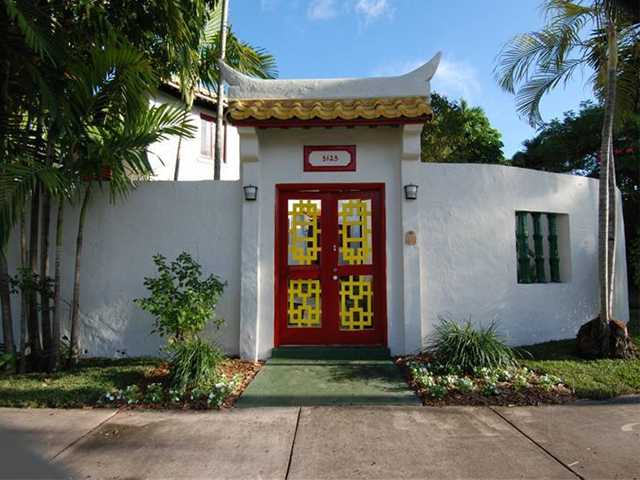 I've written in the past about all of George Merrick's beautiful villages throughout Coral Gables. I have had numerous listings in these villages and always love selling a piece of history. Merrick planned a number of diverse villages throughout the city, one of which is the Chinese Village. Located on Riviera Drive just south of US1, this is one of the most unique villages because it stands out so much! Blue and yellow roofs adorn the homes, with red and yellow doors and very unique architecture.
There's currently one house listed for sale in the Chinese Village – the first time any of these homes have been on the market in many years. Listed with Coldwell Banker, it's a historically designated 5 bedroom/3.5 bath 2-story home with 2-car garage and a nice backyard. The Chinese details are found throughout from the intricately carved glass, to the unique staircase banister, to the fret work doors overlooking the backyard. It's truly a special home! It's currently pending sale but was listed in January for $899,000.   Photos and property information courtesy of the MLS.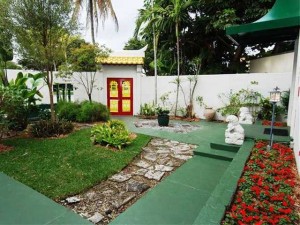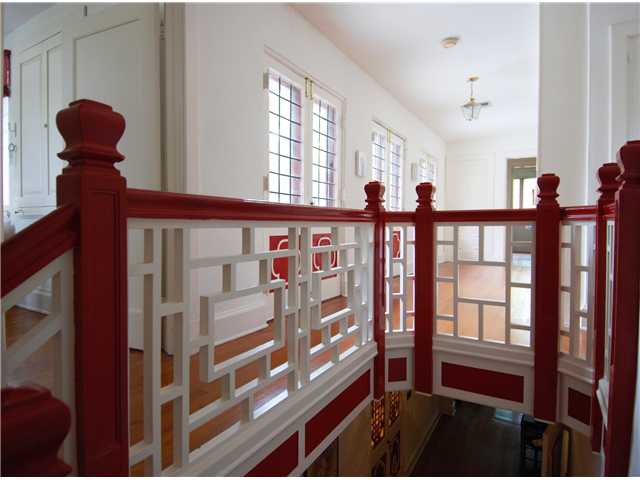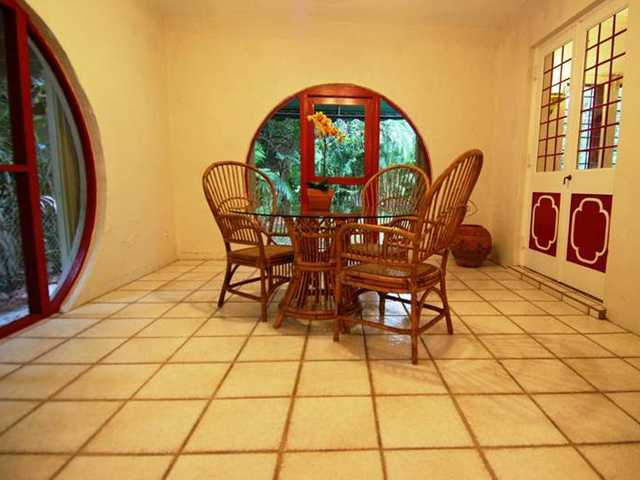 I just listed a spectacular home in George Merrick's French Country Village in Coral Gables!  This historic landmark home is absolutely beautiful and has been tastefully renovated with all the details so desired by today's buyer, but all the original charm and detail as envisioned by Merrick.
OPEN HOUSE TODAY FROM 11:30 – 2:30!
The magnificent home features formal living and dining rooms with high ceilings and wonderful detail, new Ludowici tile roof, new high-efficiency A/C and hurricane impact windows and doors throughout. Sunlight streams through oversized arched windows that line the main gallery-style hall; 2nd-floor Master Suite with his and her walk-in closets and renovated bath; generously-sized guest bedrooms; eat-in kitchen; laundry room and wine cellar. Magical gardens surround gorgeous pool and Keystone patio, fully walled property with electric entry gate, private brick driveway with carport.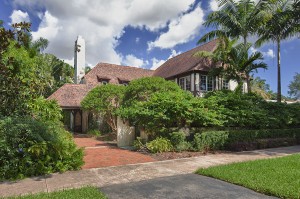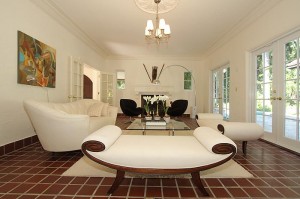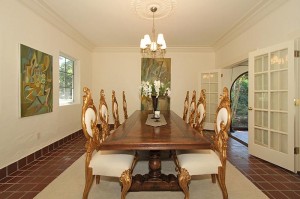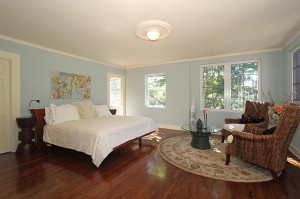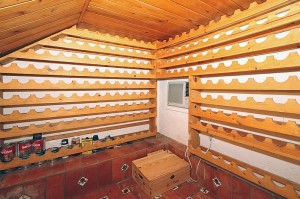 I had the pleasure of hearing Miami's famed historian Arva Parks speak at a special luncheon this week. Arva wears many hats in Miami, but one of the things she does that I find most fascinating is serving as the Chair of the Board of Trustees for the Coral Gables Museum. I've always loved the historical aspect of the Gables and how it influences my job as a realtor, and this museum and Arva Parks both have such a story to tell about George Merrick and his involvement in The City Beautiful. The museum is located right in downtown Coral Gables and opened last year. It currently has four exhibitions on view including one called "Creating the Dream: George Merrick and his vision for Coral Gables." The museum offers many ways to get involved from becoming a member, participating in the Young Associates, or making a contribution. It's definitely worth a visit. What a special addition to our city!
You all know how much I love Merrick's Villages – I have written about many of them in the past and I think they are some of the neatest landmarks in Coral Gables. Any realtor is excited to get listings in these Villages, with such a rich history attached to them. I am extremely honored to share with you my newest listing today; the anchor home in the French Country Village. It is truly one of the most special homes on the market right now!
The homes in the French Country Village were inspired by country farmhouse estates and chateauxs. They were all built in the country style with spacious yards and gardens. Steeply-pitched roofs adorn many of them in addition to their carved wood and wrought-iron balconies, red brick and tall ceilings. Located on the 500 block of Hardee Road, they are hard to miss!
My new listing is located at 500 Hardee Road and this spectacular 1925 home has been exquisitely renovated. The home offers ample living spaces downstairs with an oversized formal living room with high ceilings, beautiful fireplace & crown molding, a formal dining room fit for a king, family room with French doors opening to the pool, separate office or den area, and a gourmet kitchen beautifully updated with stainless appliances & Carara marble counters. You can sense the history of this home as you walk through the arched doorways and hallways.
Four bedrooms are located up the main staircase, all with new bathrooms. A fifth bedroom is up a separate staircase, serving nicely as a maid's room or separate guest quarters. The home also includes a 2-car garage, saline heated swimming pool, impact doors and windows, and so much more. It is being offered at $1,995,000. For additional details, photos and information, visit www.500Hardee.com!
If you own an Old Spanish home you understand the pride we "historically inclined" homeowners feel. The Old Spanish homes tend to be one of the most beautiful styles of architecture in this magical city and take us back to an era gone by. That is right, I said we, as I have lived in an Old Spanish home for the past 10 years. It was actually my father's best friend's house when they were growing up and is where my parents were married-a little trivia that I love!
These Old Spanish homes have had a resurgence of interest as of late and so I thought I would give some attention to them and their beauty.  When George Merrick planned and developed the City of Coral Gables, he embraced this "Mediterranean revival" style of architecture. The first lots were sold in Coral Gables in 1921, so examples of this architecture were already being developed in Miami with Vizcaya as the greatest example.
George Merrick offered free coral rock for building materials, thus many homes contained coral rock exterior walls and details. They also embraced such features as arches, high ceilings, ornate fireplaces, courtyards and open porches. Many of these porches have cracked tile flooring. While I cannot confirm this, I have heard that there are so many cracked tile porches, because when the Biltmore was being built a shipment of tiles from Italy came in all broken. They had to do something with them and made use of them in homes throughout the city.
The Old Spanish style homes tend to sell at a slightly higher price than your typical ranch, because people truly appreciate the quality and style they offer.  We currently have two Old Spanish homes that exemplify the style beautifully.  1137 Alhambra Circle has a wonderful arched front door with coral rock detail  around it and the coral rock is also around it's glorious fireplace.  1245 Andalusia is another special home we currently have on the market and it also has inlays of coral rock throughout the exterior and wonderful arched ceilings in the living and dining rooms.
A new listing we are about to put in the MLS is in Coconut Grove and was built by Walter deGarmo, a most important architect of the time.  This home at 3901 Braganza Avenue features the high ceilings, the grand fireplace, outdoor breezeways and a wonderful courtyard entry exemplary of the time.
Enjoy the history of our city and have a love affair with an Old Spanish-I highly recommend it!
Join us for a Wine Walk in the beautiful and historic French Village of Coral Gables.  What a wonderful opportunity to visit one of the most beautiful of Merrick's villages.  This event benefits the Junior League of Miami Foundation!  Cocktails at 6:00, Dinner at 7:00 and Dessert at 8:30 at 3 fabulous homes in the French Village. Contact Karelia Carbonell for tickets by clicking Here!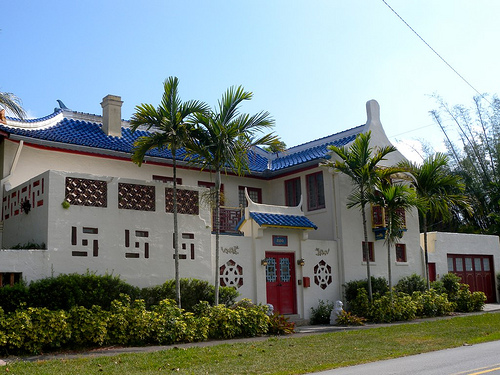 The Chinese Village is a fascinating collection of eight residences in Coral Gables, just south of US1 off of Riviera Drive.  It is impossible to miss with its vibrant colors, unique rooflines and different architectural style.  Built in 1925, these homes have a yellow surrounding wall giving the appearance of a compound, and roofs are red, yellow and blue.  All have intricately decorated gates and walls, and some of the roofs are adorned with Chinese figures which are symbols of good luck for the village's residents.  If you are a Coral Gables resident, you know that these colors would never be permitted on your homes!  But as this village was created in the Chinese style and much like Merrick's other villages, they diverge from the typical Coral Gables permitted style, creating something beautiful and unique to our special city.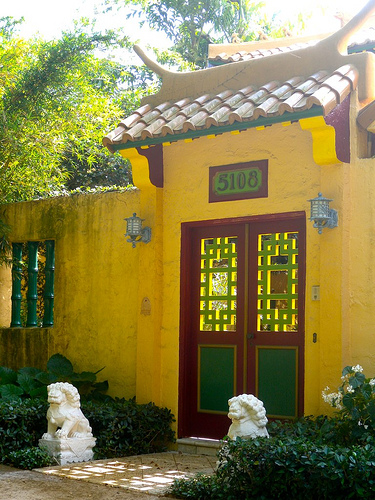 My mom and stepfather seriously considered buying one of these when I was in high school, which at the time seemed mortifying to a teenager to live in a multi-colored house.  However, they were so wonderful! The house they looked at was made up of outdoor walkways overlooking a center courtyard in the middle of the home, again following the Chinese style and offering something very unique to Miami's typical floorplans.
It is very rare to find any of these homes available for sale – there are not currently any on the market. And some residents have lived there for as many as 40 years! They are a true Coral Gables icon and if you are ever invited over for a cup of coffee or Chinese tea, don't turn down the opportunity!
Photos courtesy of Janie Coffey of The Coral Gables Story.
Coral Gables, known as "The City Beautiful", has such a rich history which is evident in all its unique neighborhoods and architectural styles.  Thanks to visionary George Merrick, we have one of the most beautiful cities at our fingertips!  One of my favorite parts of this special city are his seven International Villages that are scattered throughout town.  I thought it would be fun to share some history about each of them over the next several weeks.
In 1925, Merrick deeded several lots in Coral Gables to a group of Ohio investors – the American Building Corporation – who intended to build a series of 20 period-revival themed villages.  Between 1925 and 1926, 7 of these were realized including the French City Village, French Country Village, Chinese Village, Dutch South African Village, Colonial Village, Italian Village & French Normandy Village.
Built by Mott Schmidt, the French City Village is in South Gables and occupies the blocks off of Hardee Road between Cellini Street & Leonardo Street.  Similar to French Villas, the homes have a distinct feel to them with walled yards, gardens that open to the street, and wonderful architectural details throughout.  Interesting to note – Coral Gables doesn't permit perimeter walls to be built higher than 4 feet tall, however many of Merrick's villages incorporate walls up to 10 feet high, adding yet another unique characteristic and great privacy.
One of the prettiest homes in the Village went on the market just last week, located on Hardee Road.  Listed with EWM Realtors, it has been lovingly restored to its original grandeur!  With wonderful, graceful spaces and so much charm, it is situated on a 10,000 square foot lot and features 5 bedrooms, 4 ½ baths, a spacious updated kitchen and an elegant master suite with sitting room.  Modern day touches include a heated pool and impact windows/doors, but the authenticity shines through in the original floors in the foyer and the reclaimed antique clay floors from Provence found throughout the rest of the first level!  This is a truly exquisite home!
For additional details or information on Merrick's Villages, please don't hesitate to contact me at ashleybcusack@gmail.com or 305-798-8685.
Photos and property information courtesy of the MLS.