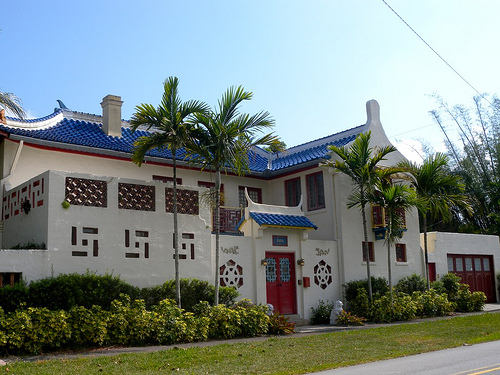 The Chinese Village is a fascinating collection of eight residences in Coral Gables, just south of US1 off of Riviera Drive.  It is impossible to miss with its vibrant colors, unique rooflines and different architectural style.  Built in 1925, these homes have a yellow surrounding wall giving the appearance of a compound, and roofs are red, yellow and blue.  All have intricately decorated gates and walls, and some of the roofs are adorned with Chinese figures which are symbols of good luck for the village's residents.  If you are a Coral Gables resident, you know that these colors would never be permitted on your homes!  But as this village was created in the Chinese style and much like Merrick's other villages, they diverge from the typical Coral Gables permitted style, creating something beautiful and unique to our special city.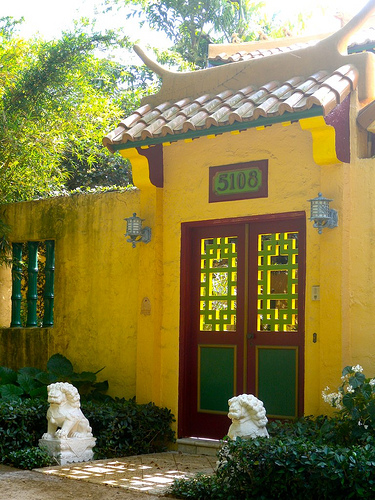 My mom and stepfather seriously considered buying one of these when I was in high school, which at the time seemed mortifying to a teenager to live in a multi-colored house.  However, they were so wonderful! The house they looked at was made up of outdoor walkways overlooking a center courtyard in the middle of the home, again following the Chinese style and offering something very unique to Miami's typical floorplans.
It is very rare to find any of these homes available for sale – there are not currently any on the market. And some residents have lived there for as many as 40 years! They are a true Coral Gables icon and if you are ever invited over for a cup of coffee or Chinese tea, don't turn down the opportunity!
Photos courtesy of Janie Coffey of The Coral Gables Story.