Hello and Welcome to Miami!
I have designed this website with you in mind, filling it with helpful information. Visit often to search for properties with my user-friendly real estate search solution, get details on schools all over Dade County, spend time reading my blog, or explore to find so much more!
550 South Dixie Highway
Coral Gables, FL 33146
Cell: 305-798-8685
Office: 305-960-5330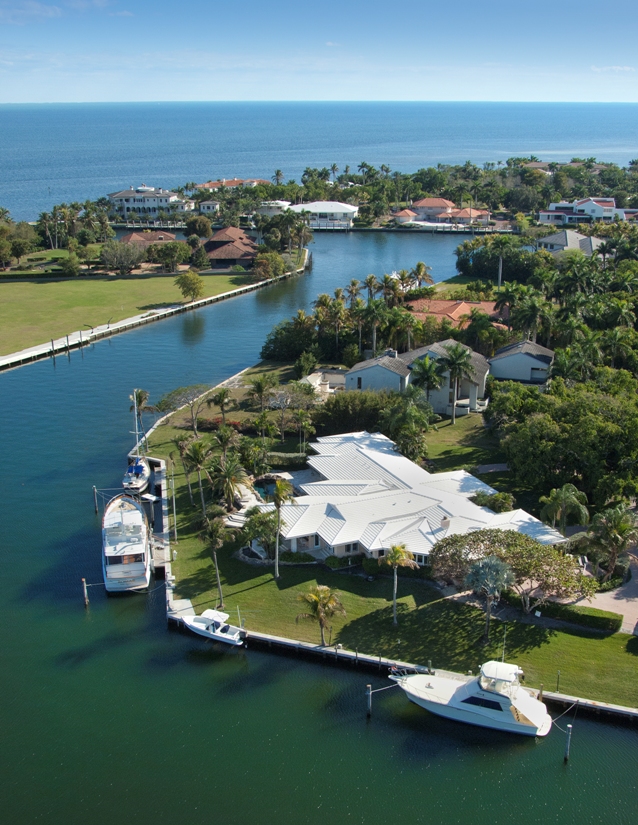 Coral Gables is home to some of the most incredible waterfront, gated communities in all of South Florida. Exquisite homes, expansive views, spectacular yachts – it can all be found in Coral Gables! The crème de la crème of all the communities down here though is Gables Estates. Known for its expansive acre-sized lots, regal estates and incredible water-frontage, this is luxury Miami living at its finest. Residents in Gables Estates must be members of the Gables Estates association, which involves an approval process and entry fee saved for only a select few. Home sales in this luxurious community have been on the rise – there have been 10 sales in the past 12 months compared to 9 the year prior and only 4 the year before that. We are definitely feeling the high-end market come back and certainly relying on these increasing sales in Gables Estates as support!
My focused dedication as a realtor in my home town of Miami for over 20 years, consistently puts me at the top of my field. Whether you're looking to buy or sell your home, let me help you from start to finish with my results-proven: professional marketing, excellent property exposure and comprehensive experience.
As the #3 Realtor company-wide at EWM in 2012 with over $55 Million in sales, my focus is on Coral Gables, Coconut Grove, Pinecrest and South Miami — specializing in luxury real estate and waterfront properties. Call me today and let's get started!
305.798.8685 | ashley@ashleycusack.com | Facebook | YouTube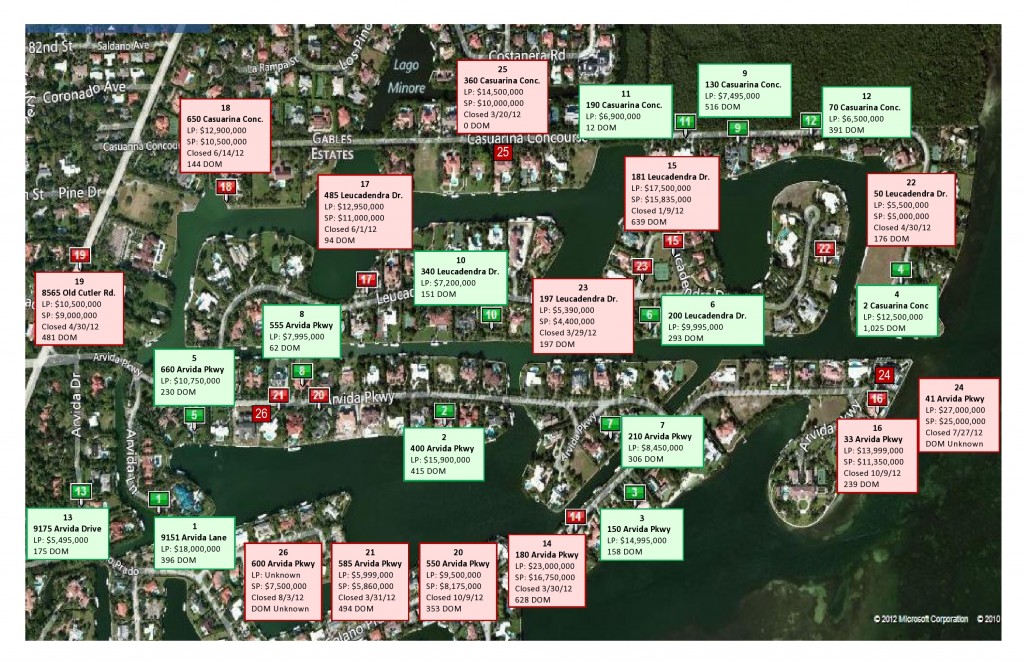 Gables Estates has had a very busy last 12 months!  Above is a map of all the activity in the community – all active listings and closed listings in the past year.  There are not currently any pending listings.  What a year for luxury waterfront real estate!
There's only one place in Miami where you can get magnificent waterfront acre-plus lots in a gated community, with no bridges to the bay and deep enough canals to handle expansive yachts – and that's in Gables Estates. One of my favorite neighborhoods in all of South Florida, this breathtaking community contains some spectacular homes. With the real estate crash though, these luxury properties haven't been selling as much as they have in the past –there have only been 3 sales in there this year, one of which was mine. However, there are some spectacular listings in there right now. I visited a few of them Wednesday and thought they were worth sharing!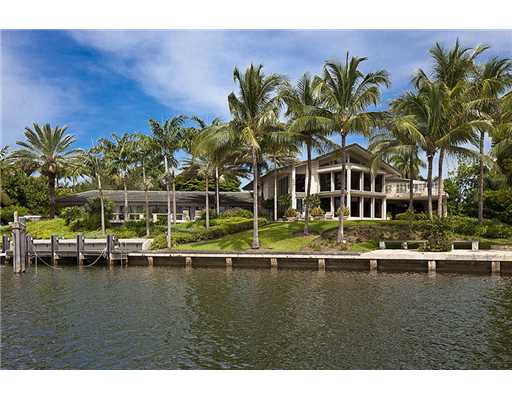 550 Arvida Parkway – 7,864 sq ft house on an acre – listed for $10 million with Judy Zeder, EWM Realtors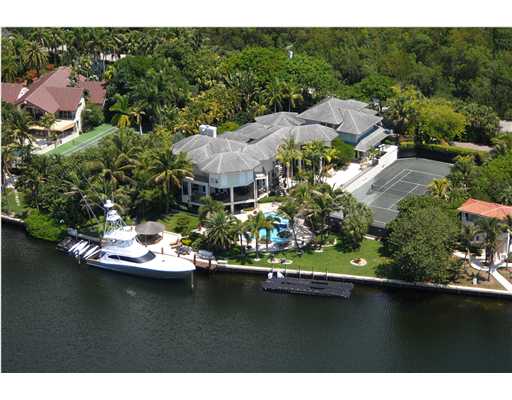 130 Casuarina Concourse – 8,735 sq ft house on an acre – listed for $9.5 million with Mayi de la Vega, ONE Sotheby's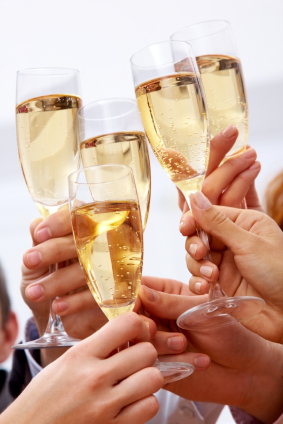 When we write our blog, we always look to what we've been experiencing lately or what's been going on in a particular week. For me, there's been so much activity recently in the high end market, I wanted to write about what's happening there. So I did my usual market analysis and was surprised to find that the MLS doesn't really reflect that much of a change in the high end at all yet. However, with all that is going on and all the offers that are being made on $2 million+ properties in our office, those statistics are bound to change in the next 6 months. While part of this activity is due to the fact that sellers are continuing to get realistic, it's also in part due to the fact that buyers are feeling comfortable again with the real estate market.
In the past two weeks in my office, I've put a $2 million+ house under contract, had an offer on my Snapper Creek lots priced at $6 million, and had an offer that didn't work out on my 2 Leucadendra property in Gables Estates, listed at $6.3 million. This is more action in the past two weeks than these types of listings have seen in a long while. So while it's still not reflected in the market statistics in the MLS, over the next several months I predict that we're going to see evidence that supports this buzz of activity in the high end sector coming out. Let the fun begin!
Looking to live on the water? There are some remarkable homes to choose from right now in Coral Gables, and this post will look at the ones in the $10 million+ range.
There are currently 10 active listings, most of which are in Gables Estates. They range in price from $10,900,000 to $49,500,000. All of these homes have at least 1 acre of land, and many are more than 10,000 square feet inside. Here's a look at some of these listings:
 7 Bedrooms / 8.5 Bathrooms / 6-car garage / 14,502 square feet / 52,708 square foot lot
Listed for $12,500,000 with Judy Zeder, EWM Realtors
6 Bedrooms / 5 Bathrooms / 3 Half Bathrooms / 3-car garage / 8,310 square feet / 46,243 square foot lot
Listed for $11,000,000 with Polly Schiff, Coldwell Banker
181 Leucadendra Drive
7 Bedrooms / 7.5 Bathrooms / 4-car garage / 14,946 square feet / 48,274 square foot lot
Listed for $22,000,000 with Audrey Ross, EWM Realtors
11 Casuarina Concourse
8 Bedrooms / 11 Bathrooms / 2 Half Bathrooms / 5-car garage / 20,862 square feet / 130,680 square foot lot
Listed for $49,500,000 with Saddy Delgado, Avatar Real Estate Services
 Interesting to note – only 2 homes priced over $10 million have sold in the past 6 months:
7020 Prado Boulevard
6 Bedrooms / 6.5 Bathrooms / 4-car garage / 11,440 square feet / 31,900 square foot lot
Listed for $12,700,000 with Mayi de la Vega, One Sotheby's ~ Sold for $9,750,000
8585 Old Cutler Road
7 Bedrooms / 8.5 Bathrooms / 4-car garage / 8,405 square feet / 179,837 square foot lot
Listed for $15,000,000 with Susan Heatley, EWM Realtors ~ Sold for $12,900,000