Hello and Welcome to Miami!
I have designed this website with you in mind, filling it with helpful information. Visit often to search for properties with my user-friendly real estate search solution, get details on schools all over Dade County, spend time reading my blog, or explore to find so much more!
550 South Dixie Highway
Coral Gables, FL 33146
Cell: 305-798-8685
Office: 305-960-5330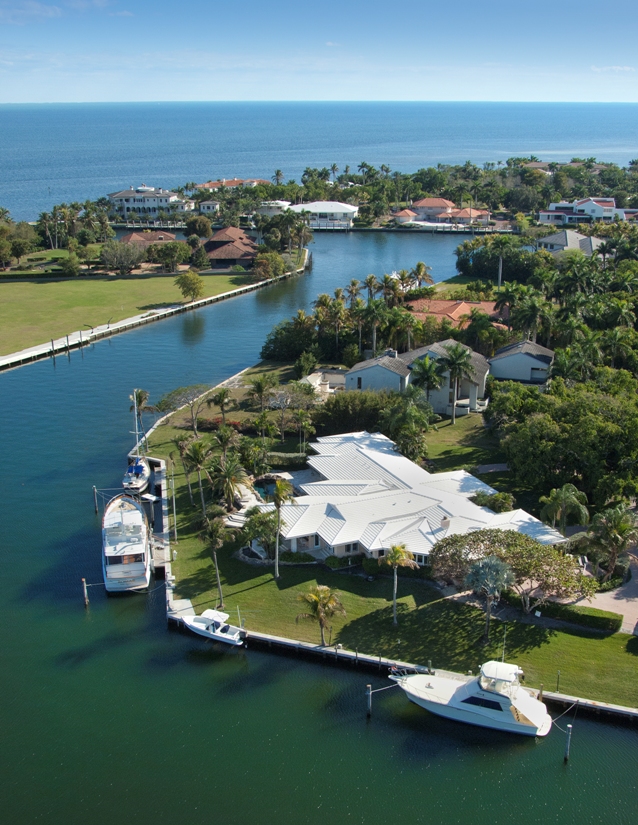 Coral Gables is home to some of the most incredible waterfront, gated communities in all of South Florida. Exquisite homes, expansive views, spectacular yachts – it can all be found in Coral Gables! The crème de la crème of all the communities down here though is Gables Estates. Known for its expansive acre-sized lots, regal estates and incredible water-frontage, this is luxury Miami living at its finest. Residents in Gables Estates must be members of the Gables Estates association, which involves an approval process and entry fee saved for only a select few. Home sales in this luxurious community have been on the rise – there have been 10 sales in the past 12 months compared to 9 the year prior and only 4 the year before that. We are definitely feeling the high-end market come back and certainly relying on these increasing sales in Gables Estates as support!
My focused dedication as a realtor in my home town of Miami for over 20 years, consistently puts me at the top of my field. Whether you're looking to buy or sell your home, let me help you from start to finish with my results-proven: professional marketing, excellent property exposure and comprehensive experience.
As the #3 Realtor company-wide at EWM in 2012 with over $55 Million in sales, my focus is on Coral Gables, Coconut Grove, Pinecrest and South Miami — specializing in luxury real estate and waterfront properties. Call me today and let's get started!
305.798.8685 | ashley@ashleycusack.com | Facebook | YouTube
Cocoplum is one of the nicest gated communities in Coral Gables. Most of the homes within Cocoplum's gates are waterfront, many with no bridges to the bay, making it even more desirable. Like the rest of Miami, prices of waterfront homes in Cocoplum have been on the rise in the past few years and the trend continues upward. This week I analyzed waterfront real estate sales in Cocoplum from the past 6 months and compared it to the same 6 months in recent years. This year, there have been 6 closed sales compared to 4 in 2012 and none in 2011! Last year, these homes sold for an average of $501/square foot and that number has increased 6% this year to $529/square foot. There are currently 7 waterfront homes pending sale in Cocoplum with an additional 13 homes on the market. Cocoplum is busy! Interested in buying in there? I can help!
Click here to see a list of all the currently active waterfront homes for sale in Cocoplum!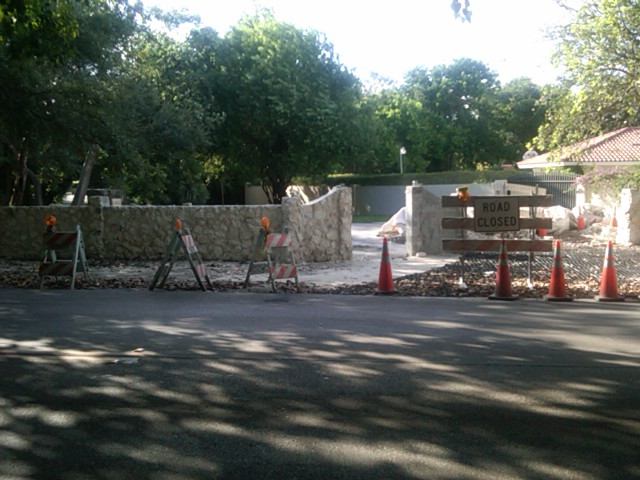 Have you noticed the construction going on at Hammock Lakes right now? The new gates are going in as we speak! I wrote a post about them last year – you can read it here. Walled gates are being constructed at the corner of Hammock Lake Drive and Old Cutler Road (as seen in the photo above) and a manned guard gate will be constructed at the north end of the community on Schoolhouse Road and Kendall Drive. These gates will bring some extra privacy and security to this already private neighborhood, and it may help values go up within the gates given the premium that exists in gated communities.
There's only one place in Miami where you can get magnificent waterfront acre-plus lots in a gated community, with no bridges to the bay and deep enough canals to handle expansive yachts – and that's in Gables Estates. One of my favorite neighborhoods in all of South Florida, this breathtaking community contains some spectacular homes. With the real estate crash though, these luxury properties haven't been selling as much as they have in the past –there have only been 3 sales in there this year, one of which was mine. However, there are some spectacular listings in there right now. I visited a few of them Wednesday and thought they were worth sharing!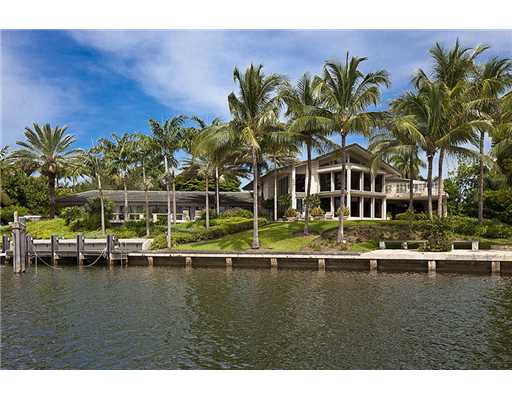 550 Arvida Parkway – 7,864 sq ft house on an acre – listed for $10 million with Judy Zeder, EWM Realtors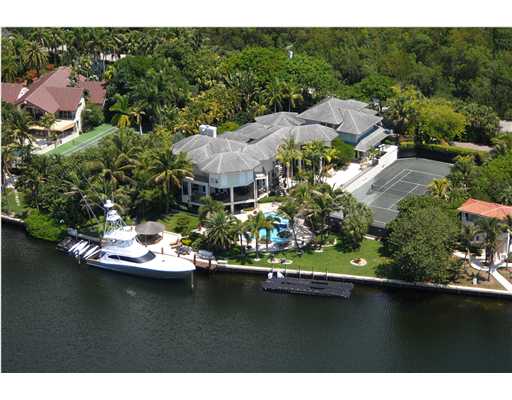 130 Casuarina Concourse – 8,735 sq ft house on an acre – listed for $9.5 million with Mayi de la Vega, ONE Sotheby's
Perfectly located just South of Kendall Drive and West of Old Cutler Road in Coral Gables, Hammock Lakes has become one of the most desired neighborhoods in Miami. Seventy-seven homes belong to the east side of this unique community while another 55 are accessible through Banyan Drive (the western community). Many of the homes are situated on the two peaceful lakes. Lush foliage and tree canopies line the streets, lending to the tropical ambiance felt within the community. Homesites in Hammock Lakes range in size, but nearly all are an acre or more, and grand homes are neatly tucked away behind all the greenery. Homes are typical of the surrounding areas include a mix of contemporary and traditional Coral Gables style, many with separate guest houses. Because of its central location, large lots, the peaceful lakes, and general sense of privacy, this neighborhood has become a premier place for families to lay down roots.
Adding to its attractiveness, the eastern community has formed a special taxing district and been given approval to install gates at its two entrances. The Old Cutler gate will be remotely operating by fire and police only, while the Kendall Drive entrance will have a manned gate. This has been a topic of discussion for many years, and it is finally coming to fruition as it has been approved by both the city and county. The plan is to install a gate at the Old Cutler entrance this summer and begin constructing the guard house at the Kendall Drive entrance in December. There was an assessment to the homeowners paid last year to cover half of the construction expense, and this November, the second half of the construction assessment will be due. This community is now a special taxing district which covers the cost and ongoing expense of the guard gate. In addition, both Hammock Lakes communities are in a separate taxing district that pays for a roving police patrol for their streets, which will continue to exist after the gates are completed.
Hammock Lakes had been quiet without any sales for the past couple years, but activity has picked up again and homes are selling.
Recent sales include:
4835 Hammock Lake Drive – Sold April 20 for $3,490,000
4900 Hammock Park Drive – Sold March 15 for $2,600,000
Pending sales include:
9050 Hammock Lake Drive
4825 Hammock Lake Drive
Active listings include:
4900 Lake Lane – $9,800,000
5485 Hammock Drive – $4,450,000
8817 Hammock Lake Drive – $3,995,000
For additional information about Hammock Lakes, please contact me at 305.798.8685 or ashleybcusack@gmail.com.