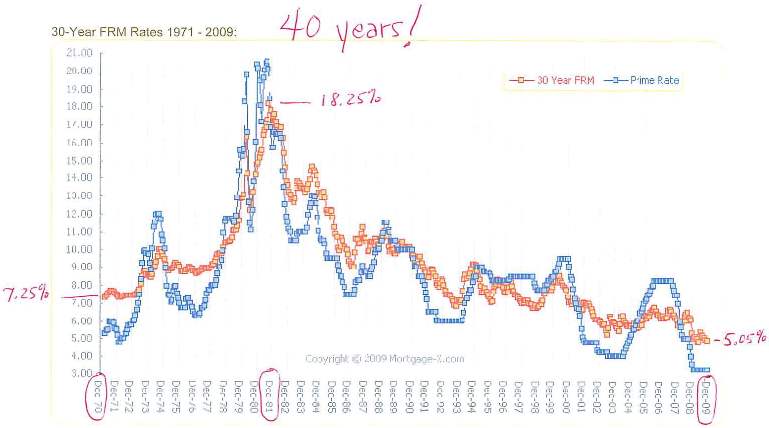 I read an article recently in BusinessWeek by Marc Roth titled "If You Don't Buy A House Now, You're Stupid or Broke".  He raises a very good point about why now is a great time to buy a house, and I thought I'd share some of his key points with you.  For those of you who would like to read the full story, please email me (ashleymia@aol.com) and I will send you a copy.
Interest rates are at an all time low.  As of today, the average 30-year fixed-rate loan with no points or fees is around 5%. This is the lowest interest rate we have seen in almost 40 years!  These rates have been all over the charts in the past several years, soaring as high as 18% in 1981, and just in the past few years, they have fluctuated anywhere from 5% to 7%.
But history has proven that rates are changing all the time, and based on where they are right now, we are much more likely to move farther upward than downward.  And historically, once rates get high, it takes a long time to get them back down to where they were.
Consider this.  Many people are holding off on buying homes today because they think prices are still coming down.  While that might be true, you aren't necessarily helping yourself because interest rates will be going up.  And here's the truth: if house prices drop 10% more but interest rates rise just 1%, your monthly mortgage payments stay the same!  And we know that interest rates are going to go up.  But we don't know that prices still have 10% more to come down.  
So the message is this – there is no better time than RIGHT NOW to buy a home.  If you are even contemplating becoming a home-owner or buying a bigger home, now is the time to do it, while interest rates are LOW.  We may never see these interest rates again!