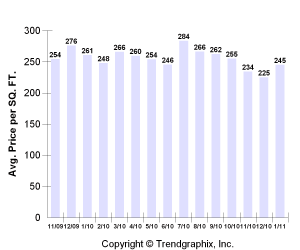 I decided to write today's post about the $500,000 to $1 million non-distressed market in Coral Gables. Much to my surprise, when I pulled the report, the numbers that came up were not what I was expecting!  But since this is what I had in mind to share with you today, I figured I should run with it. I also want to note that our reporting system is one month behind with the data, so we currently have all sales and information through January of this year, but February's data is not yet showing up on the graph.
The inventory in this market has gone down in the past year by 13% – there are currently 103 houses on the market in this price range, down from 119 last year. So while we're headed in the right direction on that front, the report also shows a decline in value on a price per square foot basis. Last year, we were at an average of $264/square foot and this year the average is $235/square foot. 
If you look at the chart though, we have been up and down all year, and I certainly don't feel like we're in a declining market. I would not advise my clients that the market is declining either. On the contrary, I am feeling more activity in this market than I have in years, but I do have to analyze the numbers and this is what they say.
I am going to revisit this same search in 2 months. My prediction is that we are going to see sales in February and March picking up again and bringing these numbers back up to last year's average. I truly believe that we have reached a stable market and I believe the numbers will reflect that.