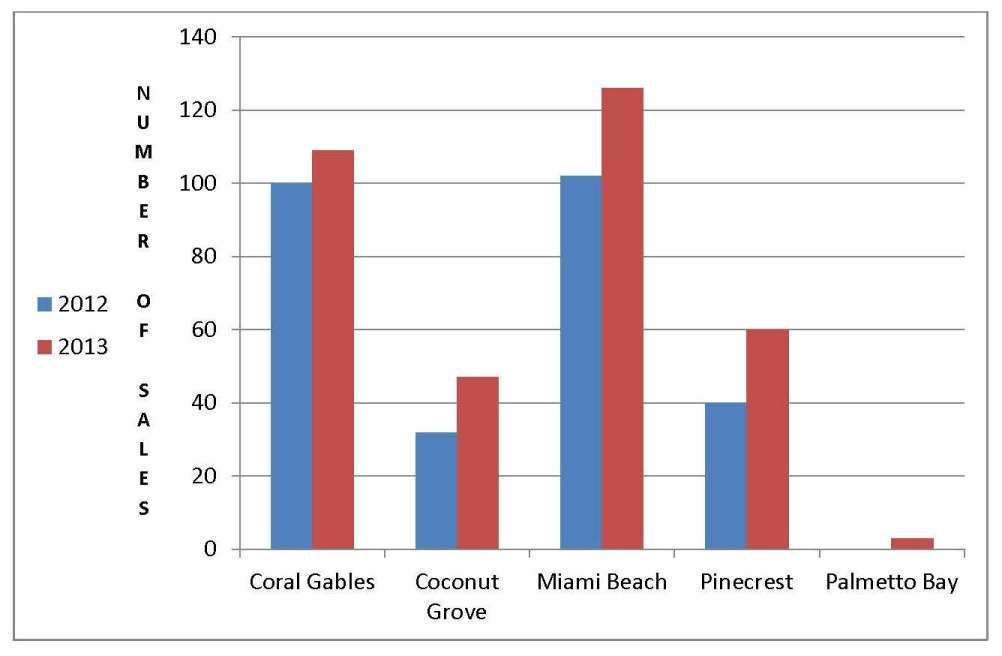 2013 was a busy year for Miami real estate with tremendous improvements across the board – inventory continued to drop, prices rose (sometimes dramatically), homes sold closer to their asking prices, and the average days a listing was on the market before it sold went down. Looking at the Miami luxury real estate market, we saw the same progress. In fact, there were more sales over $1.5M this year in all of the major markets (Coral Gables, Coconut Grove, Miami Beach, Pinecrest, Palmetto Bay) than there were last year, and we still have sales left this year that haven't been recorded! This chart shows how many sales occurred this year compared to last year for these $1.5M+ homes. Pinecrest had a 50% increase from 40 sales last year to 60 this year, and Palmetto Bay didn't have any sales over $1.5 million last year but there have been 3 this year. Here's to a wonderful 2014 in Miami real estate!

My focused dedication as a realtor in my home town of Miami for over 20 years, consistently puts me at the top of my field. Whether you're looking to buy or sell your home, let me help you from start to finish with my results-proven: professional marketing, excellent property exposure and comprehensive experience.
As the #3 Realtor company-wide at EWM in 2012 with over $55 Million in sales, my focus is on Coral Gables, Coconut Grove, Pinecrest and South Miami — specializing in luxury real estate and waterfront properties. Call me today and let's get started!