Hello and Welcome to Miami!
I have designed this website with you in mind, filling it with helpful information. Visit often to search for properties with my user-friendly real estate search solution, get details on schools all over Dade County, spend time reading my blog, or explore to find so much more!
550 South Dixie Highway
Coral Gables, FL 33146
Cell: 305-798-8685
Office: 305-960-5330
I had the pleasure of hearing Miami's famed historian Arva Parks speak at a special luncheon this week. Arva wears many hats in Miami, but one of the things she does that I find most fascinating is serving as the Chair of the Board of Trustees for the Coral Gables Museum. I've always loved the historical aspect of the Gables and how it influences my job as a realtor, and this museum and Arva Parks both have such a story to tell about George Merrick and his involvement in The City Beautiful. The museum is located right in downtown Coral Gables and opened last year. It currently has four exhibitions on view including one called "Creating the Dream: George Merrick and his vision for Coral Gables." The museum offers many ways to get involved from becoming a member, participating in the Young Associates, or making a contribution. It's definitely worth a visit. What a special addition to our city!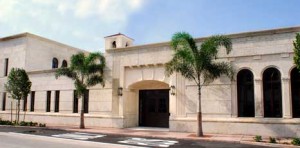 After years of planning & restoration, the new Coral Gables Museum finally opened up last month! We are thrilled to have this wonderful museum in our neighborhood and are so excited that it has finally opened. The museum's mission is "to celebrate, investigate and explore the civic arts of architecture and urban and environmental design, including fostering an appreciation for the history, vision, and cultural landscape of Coral Gables; promoting beauty and planning as well as historic and environmental preservation for a broad audience, including children, families, and community members, as well as local, regional, national and international visitors."
The museum is located in the historic site of the 1939 Police and Fire Station. It currently has 5 exhibits on display including an Arva Moore Parks exhibit on George Merrick, a John A. Stuart display on Art & Architecture during the New Deal, a display on Juan Ponce de Leon's "La Florida", a Caroline Parker-Santiago exhibit called "Coral Gables Sister Cities: Partners in Peace" and the Anthony R. Abraham Family Gallery Inaugural Exhibit from curators Norma Jean, Thomas & Brian Abraham.
The museum is open Tuesday through Sunday. Their hours are as follows:
Tues – Thurs     12:00 – 6:00
Friday                12:00 – 8:00
Saturday           11:00 – 5:00
Sunday               12:00 – 5:00