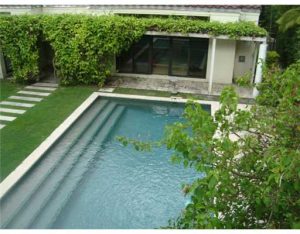 I was amazed to see 842 Palermo Avenue come back on the market this week! This special historical home is currently a foreclosure property so it needs work and it doesn't show that well because it's vacant, but in 2006, this home sold for $1,750,000.
Currently listed with Nancy Yialouris of Yialouris Group Realty for $896,940, almost half of what it sold for 5 years ago, this unique property is made up of 3 structures surrounding a courtyard with a pool. The two main structures each have two bedrooms and are attached by a covered walkway. One has two bedrooms and two bathrooms, and the other has the master suite with an additional bedroom attached. The third structure serves as a guest house. The home has amazing details and updates and is truly a beautiful home, but given the circumstances, it doesn't show well right now. I saw this house back when it was on the market in the past and the potential it has is outstanding. It was a lovely house at one point!
We often remark about how our market in the Gables is back to 2003 or 2004 prices. Interestingly, this home sold in 2003 for $1,100,000 – $267 per square foot. Today, it's listed for $218 per square foot. And while it does need some work to bring it back to the shape it was in back then, it's going to be an amazing opportunity for whoever ends up buying it!
Listing information & photos courtesy of the MLS.