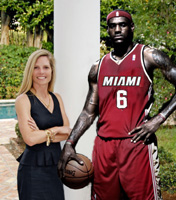 According to the Miami Herald on Wednesday the 21st, the realtor community here in Miami is buzzing about the Heat and who will ultimately get the new star as a client.  Rumors are swirling!  Phones are ringing!  Twitter is tweeting!
So in light of all this chatter, I thought I'd put together a "Top 10" list of why the "Chosen 1" should choose me:
10. Cleveland vs. Miami.  Mistake by the Lake vs. The Magic City. I'd make that same choice, too.
9. Just Ask Boo – I know those guys and can hook you up with all the household help you need!
8. Like you, I'm a competitive athlete with a drive to win.
7. LeBron's baby mama's last name is Brinson.  My maiden name is Brinson.  We could be sisters!  Keep it in the family!
6. My husband can teach you to paddleboard or navigate the waters of Biscayne Bay.  And he can even help you with any legal trouble you may encounter in Miami.
5. You are a winner who likes to be with other winners.  EWM is hands down the best real estate firm in Miami.  I've got the charts and graphs to prove it.
4. Just like basketball, real estate is a team sport and I've surrounded myself with a really great team.  Together we make sure that we anticipate every detail in every deal for every client.
3. I'm in the top ½ of 1% of Realtors nationwide.  I'm good.
2. I work for Warren Buffet.  If he trusts me, so should you.
1. Since 2000, I have personally closed over $230,000,000 in real estate transactions for my clients.
Ok, so maybe LeBron already bought a house, but who could resist?
In all seriousness, welcome to Miami, LeBron!  I'm sure you'll love living in my hometown!  I'm so thrilled that you are here.  You don't have to be an NBA Super Star for me to want to work with you.