Hello and Welcome to Miami!
I have designed this website with you in mind, filling it with helpful information. Visit often to search for properties with my user-friendly real estate search solution, get details on schools all over Dade County, spend time reading my blog, or explore to find so much more!
550 South Dixie Highway
Coral Gables, FL 33146
Cell: 305-798-8685
Office: 305-960-5330
As a realtor, my most asked question is "What is my home worth?"  And when people ask me that question, I sit down and do comps, I analyze their particular market, I look at graphs of data and pending sales, and I come up with what I believe to be the value of their home.  But these days, the results are almost comical! Because we work so hard to come up with numbers and analyze all this data that we have access to, but at the end of the day, I continually find that our prices stand where they were back in 2003 and 2004. And we have been consistently around those values for the past year. The graph below shows the average price per square foot of all sold homes in Miami-Dade County since 2003, and you will see we are right there, back where we were in 2003!
So while I'd like to portray myself as a genius, the reality of it is that the market pretty much is what it is.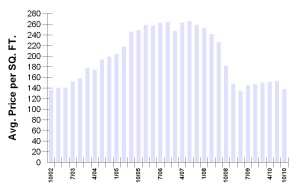 Leave a Reply