Hello and Welcome to Miami!
I have designed this website with you in mind, filling it with helpful information. Visit often to search for properties with my user-friendly real estate search solution, get details on schools all over Dade County, spend time reading my blog, or explore to find so much more!
550 South Dixie Highway
Coral Gables, FL 33146
Cell: 305-798-8685
Office: 305-960-5330
There's a very large chance another realtor is going to sell your home, so we do open houses on Wednesdays to introduce our listings to other realtors. Often realtors coordinate holding open houses together when there are multiple listings in the same area. We work together to sell these homes and this is one tool we use. Today, we have a Progressive Broker's Open House in the North Gables, and we'd love for you to join us!
–    730 Coral Way #103, $310,000 (www.730CoralWay.com) (Ashley Cusack, EWM)
–    1213 Tangier St. $499,000 (www.1213Tangier.com) (Ashley Cusack, EWM)
–    1225 Asturia Ave. $639,000 (www.1225Asturia.com) (Ashley Cusack, EWM)
–    2507 Country Club Prado. $2,700,000 (Karen McCammon, EWM)
–    821 Messina Ave. $1,369,000 (Cecilia Samaja, ONE Sotheby's)
–    812 Alhambra Circle $698,000 (Jeannett Slesnick, Slesnick & Jochem)
–    114 Genoa St. $560,000 (Jeannett Slesnick, Slesnick & Jochem)
–    1314 Milan Ave. $499,000 (Belinda Sime, Avatar)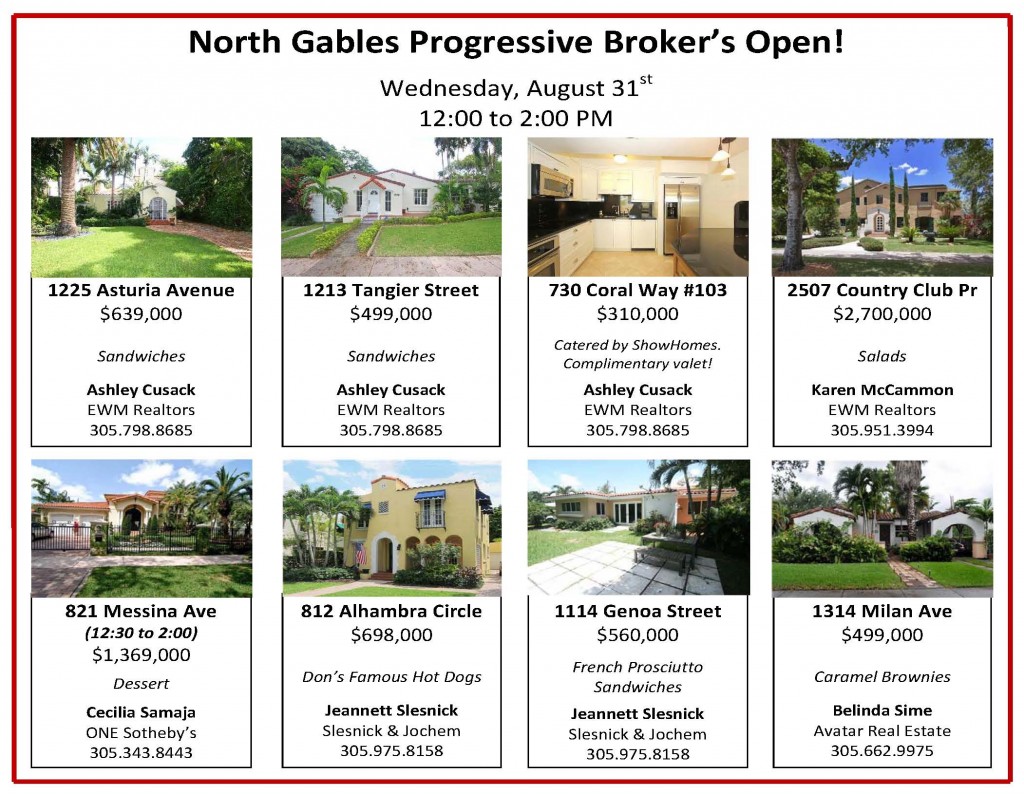 Leave a Reply