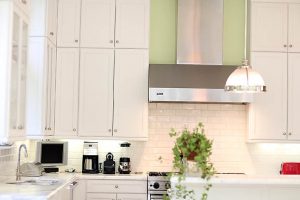 Here are my most critical tips for sellers to help them get their house sold quickly and for the highest value:
1. Keep your house immaculate. Pick up after your children. Make sure there aren't any dishes in the sink. Hang your towels up. Make all the beds. You get the picture.
2. Leave the house! Don't be there for the showing! Clients like to be alone when looking at a house. They don't want to worry about saying something that might offend you, and they won't want to look in the closets if you are there. So give them space and leave your house when it's time to show it.
3. Ask Sherwin Williams. Paint to freshen up your walls. Paint all the baseboards and moldings and touch up your walls so everything looks crisp and clean.
4. De-clutter! you are most likely still living in the house when you go to list so I understand this can be hard, but cleaning up and de-cluttering is arguably the most imp thing you will do to impress and attract your buyer. Get rid of old toys, clean out your closets, clear off ALL your counters. It makes your house look bigger and more inviting! The homes that show best are the ones that look staged, so think about how you'd want a house to look if you were going to see houses and make your house sparkle like that!
5. Have a garage sale BEFORE you list! Many sellers like to have garage sales just before they make the big move into their new home. But you are much better off having that garage sale BEFORE you list your house and getting rid of all your junk before people start coming in to look at it.
6. Scale back your family photos. While I never tell my clients to take down all their family photos because I do believe they add warmth to a house, it can be distracting to buyers if you have too many pictures around the house. Buyers end up looking at pictures the whole time instead of the house!
7. Be flexible with showings. Try as much as you can to show the house when people ask to see it. There are obviously times that just won't work, but I see one of my most important services as making myself available. It is best if sellers can take the same approach.
8. Be mindful of the odor. I've written about this topic before. Smells are very important so make sure you get rid of the dog or cat smell! Also think about this before you cook your favorite fried fish.
Buyers won't want to taste the leftover smells!
9. Curb appeal can seal the deal! Keep your trees trimmed and your grass cut. Plant flowers in the front – a little color can go a long way and curb appeal is so important. It's the first thing a buyer sees!