Hello and Welcome to Miami!
I have designed this website with you in mind, filling it with helpful information. Visit often to search for properties with my user-friendly real estate search solution, get details on schools all over Dade County, spend time reading my blog, or explore to find so much more!
550 South Dixie Highway
Coral Gables, FL 33146
Cell: 305-798-8685
Office: 305-960-5330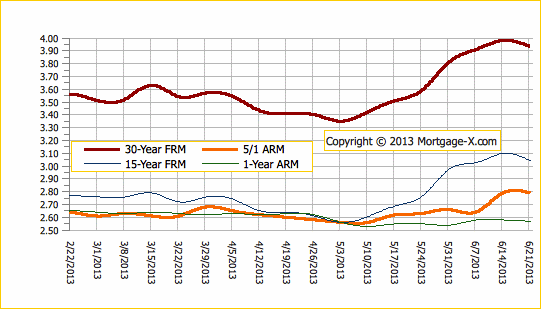 It seems that the topic du jour in real estate is rising interest rates for mortgages. Interest rates spiked in the past couple weeks putting buyers in a frenzy. With interest rates having been this low for so long, the increase was inevitable but buyers are on edge because of it. If you are buying a house and you haven't locked in your rate, now is the time to do so. The chart above reflects what the interest rates have done in the past 4 months. You will see that they are higher today than they have been in all of this time. However compared to a year ago, rates are still significantly lower than they were, and basically the lowest they've been in 20 years. We don't know what tomorrow may bring, but rates have been on the rise in the past month and the projections are that they will continue rising!
Reproduced with the permission of Mortgage-X.com
Leave a Reply