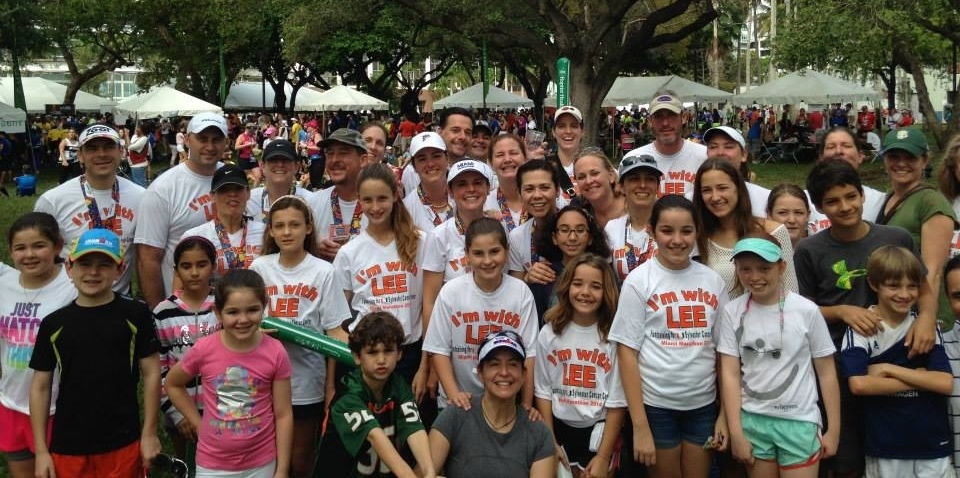 This past Sunday I had the pleasure of witnessing the Miami Marathon in beautiful Downtown Miami. I love nothing more than being out there cheering on runners of all abilities as they tackle this huge milestone in their life! It was such a great day, despite the heat and shortage of medals for the finishers.
As I'm a runner, I hated not being in the race but got to cheer everyone on at the 11-mile mark with my daughter and friends. It was so much fun and felt great knowing we were helping all of these people. It takes so much perseverance and discipline to get there! The runners deserved every last bit of encouragement we could offer!
I was there in support of a dear friend Lee who is battling cancer. A group of runners was put together to support him – there were about 16 runners in the group there to cheer him on and run with him! Everyone wore "I'm With Lee" shirts for the race and we cheered even louder every time we saw one of those shirts pass. However, the real excitement was when we saw Lee pass as he ran the half marathon as well! He's such an inspiration to me and I couldn't have been prouder to be a part of the special day.

My focused dedication as a realtor in my home town of Miami for over 20 years, consistently puts me at the top of my field. Whether you're looking to buy or sell your home, let me help you from start to finish with my results-proven: professional marketing, excellent property exposure and comprehensive experience.
As the #3 Realtor company-wide at EWM in 2012 with over $55 Million in sales, my focus is on Coral Gables, Coconut Grove, Pinecrest and South Miami — specializing in luxury real estate and waterfront properties. Call me today and let's get started!