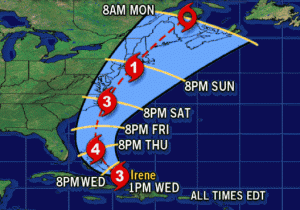 Thanks to Irene (who luckily we won't get to know!), I've been thinking this week about hurricanes and closings. With this in mind, I called my good friend & insurance agent Patrick Battle at Keen Battle Mead to get the facts (pbattle@kbmco.com). Here's what he had to share.
Citizens is the primary insurer in Florida. They used to have a rule that if Miami was in "the Box" (a defined area created by them based on any particular storm), then their binding ceased until the threat of the storm had passed. You'd often here real estate agents and insurance agents talking about being "in the box". However, the rules have changed, the box no longer exists, and it's actually gotten worse.
Citizens' new rule states that when there is a tropical storm or hurricane watch or warning issued by the National Hurricane Center ANYWHERE in the state of Florida, they suspend insurance binding altogether. So if a buyer and seller were ready to close but the buyer hadn't yet secured insurance and a tropical storm warning gets issued in Jacksonville, the closing would be delayed until that warning gets lifted and insurance gets bound.
So here's what I am telling all of my buyers right now. It's hurricane season. We're bound to be affected by storms. So once you get under contract on a property, get your mitigation inspections done, get in touch with an insurance agent, negotiate the terms of your policy, and get your insurance bound immediately! If you get all of that done prior to the warnings or watches being issued, you can still close on time, even if it's in the middle of a hurricane! Insurance policies can be written and bound up to 30 days in advance of the closing.
Once the watch or warning gets lifted, they are cleared to start binding policies again. But don't let the risk of a storm delay your closing!